One of the most highly-anticipated weekends in the English football calendar is here as the FA Cup 3rd Round takes place over the coming days. Teams from the Premier League and Championship enter the fray with some exciting David versus Goliath ties heading our way. Let's take a look and see which teams I'm backing to win with our FA Cup 3rd Round accumulator tips below.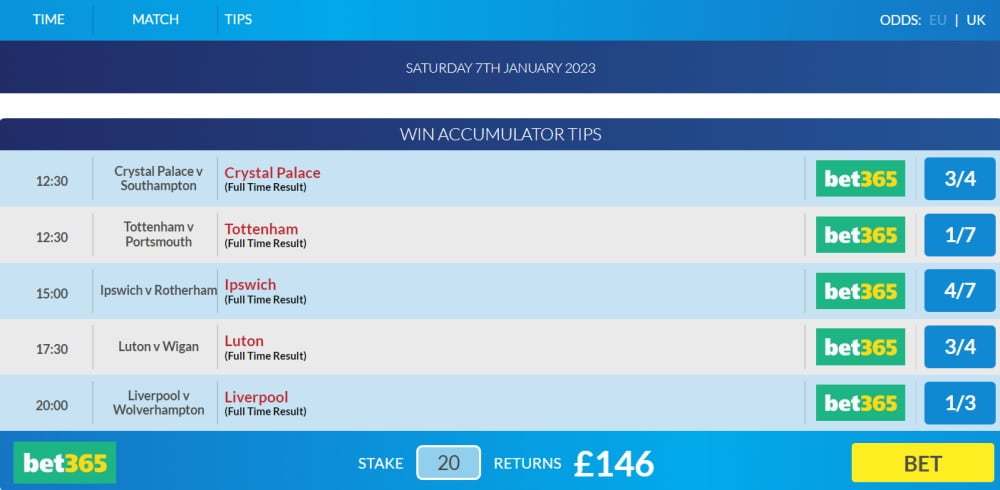 CRYSTAL PALACE vs Southampton (12:30pm GMT, Saturday 7th January)
My first pick is on solid ground where it's more a case of betting against an out-of-form team rather than backing an in-form side. I really admire Nathan Jones as a head coach for his passion and work ethic. By all accounts, the Southampton players have bought into his methods on the training ground as well. Unfortunately, it's just not transferring onto the pitch. Saints fans are already calling for the former Luton manager to be sacked which seems ridiculous but such is the level of anger aimed at the team's playing style at the moment. 4 league defeats in a row with 9 goals conceded suggests the more direct approach of Jones isn't quite working. It feels like this is a game for the taking for Crystal Palace.
TOTTENHAM vs Portsmouth (12:30pm GMT, Saturday 7th January)
It wasn't that long ago that this fixture was between two established Premier League sides. Now, Tottenham are battling in the Champions League and Portsmouth down in mid-table in League One and without a manager having sacked Danny Cowley this past week. I appreciate Spurs fans are not the happiest bunch right now but they need to understand that things aren't exactly harmonious down on the south coast. Pompey will be led by caretaker manager Simon Bassey and he will know the team have only won 1 of their last 6 away league games. However, they did pull off a convincing 3-1 away win against Hereford in the FA Cup 1st Round so who knows? Antonio Conte should witness his team seeing off their opponents on home turf here.
IPSWICH vs Rotherham (3pm GMT, Saturday 7th January)
Heading into this game, you'd be forgiven for thinking this could be a close game. League One club Ipswich hosting higher-placed Championship side Rotherham. Look a little deeper and you'll soon see that this could be a particularly tricky day out for the visiting team. Ipswich are looking in fine form this season sitting in 3rd place in the third tier and only suffering 1 loss in their last 13 matches under Kieran McKenna. Rotherham's heady days under Paul Warne are now long gone. The Millers are down in 21st place in the second tier with Matt Taylor's team only winning 1 of their previous 12 matches including failing to even score in 3 of their last 4 games.
LUTON vs Wigan (5:30pm GMT, Saturday 7th January)
If the word freefall could accurately describe one team right now then it would have to be Wigan. The Latics took the controversial decision to sack Leam Richardson back in November. Things then took a surprising turn when they appointed former Manchester City and Ivory Coast international Kolo Toure as manager. Unsurprisingly, it's been a rocky start to the team's tenure under the inexperienced manager who has no association with the club. Wigan are now sat bottom of the Championship having lost their last 4 league games including conceding 4 goals in each of their previous 3 matches. Luton, meanwhile, are showing very encouraging signs under manager Rob Edwards with 3 wins on the bounce moving them up to 7th place in the second tier.
LIVERPOOL vs Wolves (8pm GMT, Saturday 7th January)
It's a mainstream pick for my final selection here as I look to back a stuttering Liverpool against an unknown quantity in Wolves. There is concern about how the Reds will manage without star centre back Virgil Van Dijk. If their defensive display after he went off against Brentford is anything to go by then this pick could be a disaster. However, this is Liverpool at home in the FA Cup and they tend to do the business in those circumstances although Wanderers fans will fondly remember their cup win at Anfield 6 years ago. Wolves are still learning to live a new life under new head coach Julen Lopetegui. Performances are showing glimpses of promise but it's still hard to gauge where the team is just 3 league games into his reign. I'd be very surprised, and disappointed, if Liverpool didn't see off a lower-placed Premier League team at home that are still in a period of transition. Not forgetting that Wolves also have a huge EFL Cup Quarter-Final clash in midweek followed by a "relegation six-pointer" at home to West Ham next weekend so I expect them to field a back-up team.
Crystal Palace, Tottenham, Ipswich, Luton, and Liverpool to Win @ 5.86/1 with Bet365
If you want to take advantage of the latest promotions for the FA Cup 3rd Round then head over to our FA Cup betting offers page.